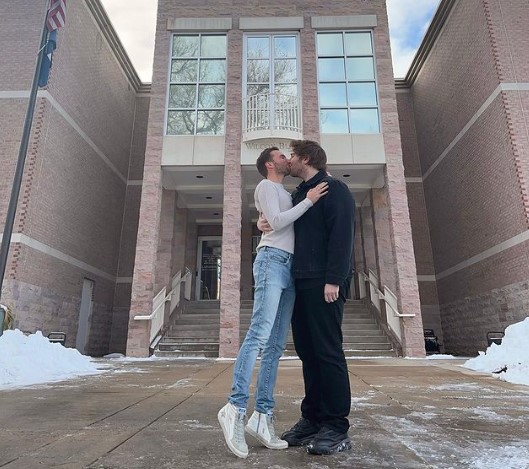 Shane Dawson and Ryland Adams have finally tied the knot.
After being together for almost seven years, the YouTubers can now officially call each other husbands after getting married earlier this year in Colorado.
According to a new joint video uploaded to Dawson's channel, the longtime couple exchanged their vows during a simple courthouse ceremony on January 3. But to make the moment all the more special, both of them decided to dig out an item of clothing from when they got engaged in 2019, with Adams donning the same sweatshirt and Dawson (somewhat unsurprisingly) opting to put on the same pair of underwear. And even though they were unable to replace their rings with matching finger tattoos as originally planned, they still managed to put their own little spin on a traditional wedding by replacing the cake with some

Additionally, the two revealed that they're planning to have a larger wedding in Los Angeles next month, and we expect it'll probably come with a real cake. That said, their courthouse ceremony is still likely to be "the best day of my life," as Dawson wrote in a collaborative Instagram post that was also shared by Adams.
Not only that, but Adams ended the video by reading a heartfelt letter that he wrote in 2015, in which he said the "one aspect I'm missing in my life is love."
"I want someone to share my successes with, to be there and someone to experience the world with," he said at the time. "I intend to work hard. I intend to find love. I intend to be in a healthy relationship."
Adams concluded, "I intend to do what I know is right for me and choose happy."
As for what comes next, the content creators will be staying in Colorado, where they moved in 2021 after Dawson became embroiled in a string of troubling controversies. They also hope to start a family sometime this year.